Do You Have A Dog That Is A Little Overweight?
An overweight dog often also has an owner that could use to lose a pound or two.  Doesn't it make sense to get in shape together?  Dogs that get fit and healthy, live longer, happier lives. 
Your dog pretty much only asks for treats and a little love.  By giving yourself the gift of fitness and longevity you both gain great benefits. 
Try some of these activities to get fit together:
Walking.   Every dog loves a good walk.  Just grab the leash and you'll have a dancing doggie on your hands.  The smells and adventure can't be resisted.  A walk is always a good old standby. Every dog is excited by the prospect of a walk. Walk around the block together or explore new routes.
Hiking.  As much as dogs love to go for walks, hiking can be even more fun. There can be even more smells, sounds and critters that hold a more interesting time to the average dog.  HIking through the woods or paths tend to be much easier on their feet than concrete sidewalks or paved roads. 
Swimming. As much as some dogs don't like baths, swimming is a whole other story.  Most dogs are naturally good swimmers. Swimming and frolicking is a very healthy, low-impact exercise for you and your dog.
◦ Pay attention to your pup.  They often have so much fun they may tend to overexert themselves and not know when to take a break.  
Skating. Rollerblading or rollerskating is a great activity to do with your dog.  Skating is fun for you and you can keep up easier with a more active dog.  
Biking. I've always envied people who bike with their dogs trotting along beside them.  This is great for well-trained dogs with lots of energy.   
 ◦ Practice training your dog to exercise with you while you're biking.  You'll both enjoy the activity.  Biking together is worth the effort.
Trail running. Trail running is like hiking at a faster pace.  It's a great workout for both of you.
 ◦ Make sure you have comfortable shoes and you stretch before each trail exercise.  Consider this to be an advanced activity for both of you.
Road race. Once you're consistently exercising, consider participating in short road races with your dog.  5k or fun runs are popular for human-dog running teams.
Playing fetch and tag. Traditional fetch is great for the dog but standing in place and throwing the ball doesn't do much for the owner. Mix it up a bit. Throw a ball or frisbee, and then you run after it yourself or even chase your dog and try to catch him. You're not likely to ever win, but you'll get some great exercise and you'll both have loads of fun. Get the ball or frisbee back from your dog and repeat. See who decides to give up first!
Dogs love attention and to be active, but they're just as content to sleep the day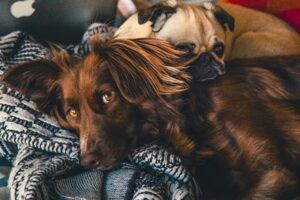 away if there's nothing interesting going on. Just because your dog is content lying around all day doesn't make it ok.  
You can spend time together, get in shape together and have fun. You may even lose a few pounds and increase your fitness together.  Get up and get going.
Do you love animals too? 
Debi
PS.  Behavior Training For Dogs – Develop your Dogs "Hidden Intelligence"
Have A Well Behaved Dog: Dog Training System
THIS POST MAY CONTAIN AFFILIATE LINKS. PLEASE READ MY EARNINGS DISCLOSURE FOR MORE INFO.