My name is Debi and I currently live in Florida.  I have 3 adult kids, one dog and two grand-dogs.  I've always had dogs my whole life and I love them all.  I don't discriminate.  My dogs have been big dogs, little dogs, black dogs, white dogs, brown and grey dogs.
I give credit to my childhood dog for saving my life, but that's a story for another time.
Pets Have Purpose ~ For the love of doGs, where doGs are family.
At Pets Have Purpose we believe all doGs are family and deserve to be safe, valued and loved.  Pets Have Purpose is a place where like-minded individuals can get together to engage, discover and share about their relationships between doGs and people.
We'd love to hear from you.  Please share your doG "tails", stories or pictures of your pets.
Meet the furry family:
Chewie
Lhasa Apso poodle mix.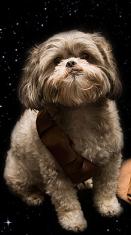 Granddogs ~ Aldous & Leo
Lab mix.
Chihuahua mix.